send checks instantly
Save Money By
Sending And Receiving Checks

Online Instantly

No more worries about lost or delayed mail. With eMailACheck, send and receive checks within seconds via email or SMS.
30k+
Active User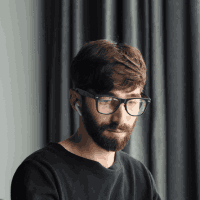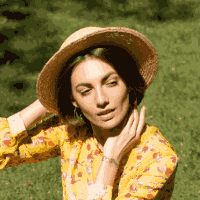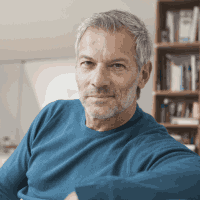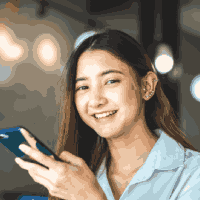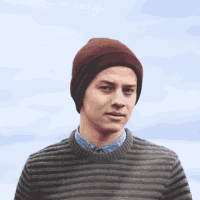 Benefits
Save on postage, save on handling costs, save on envelopes, save on the costs of pre-printed checks, instant delivery, no more lost mail, confirmation of delivery, manage cash flow.
1
Still a check
Compared to payments via debit card / credit card / wire transfer or online bill pay, sender does not provide any secure information (like credit card numbers) that can enable a recipient to potentially do unauthorized transactions in the future.
2
More Secure
eMailACheck has inbuilt fraud-protection and is more secure than traditional checks. Our checks have electronic signatures proof of delivery and receipt, and repeating watermarks to prevent them from being altered.
3
No more lost checks!
eMailACheck, checks are delivered almost instantly over the Internet and the data is encrypted on transmission and while in your mail box. Sender does not need to worry about re-issuing lost checks or making stop payments.
4
Save on late fees
With eMailACheck the chances of late fees and penalties are completely eliminated as checks arrive on the date designated by the payor , and both parties have proof of delivery.
5
Save on bank fees
With eMailACheck you can eliminate bank fees by timing payments and reconciling account balances, and manage cash flows.
6
Save time & money
eMailACheck's FREE software allows you to cut hundreds of checks in a matter of few minutes. Businesses reduce costs and save valuable time without using postage paper or handling.
1
Receive payments anytime
Recipent does not need to wait on physical mail to arrive. eMailACheck is delivered instantly, securely, and password protected.
2
View Check anywhere
Receive your checks instantly in your email box on your computer or smart device from anywhere and deposit from anywhere.
3
Save time
You don't have to waste time mailing or opening mail looking for checks. Receive and open everything right from your email box without wondering if it got lost in the mail.
4
Deposit
Deposit check without ever printing it. Save paper and save our environment.
5
Receive Check History
Send, receive and view your checks and receipt history from anywhere.
6
Save handling costs
eMailACheck does not charge any fees to users.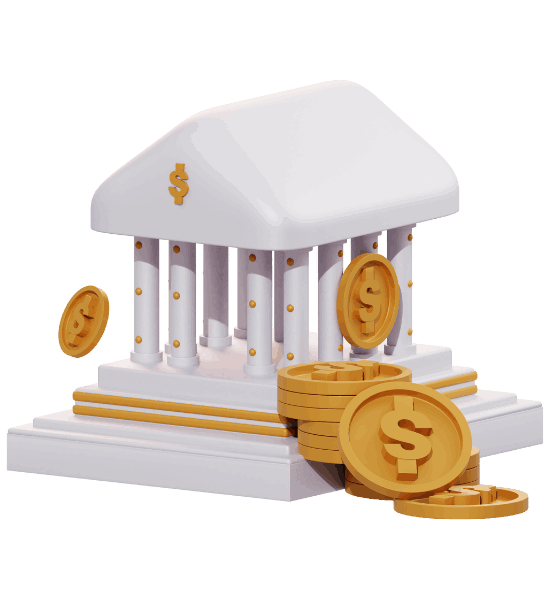 benefits to Bank

Banks can now scan the barcode which has the complete check information

Reduce losses with unauthorized checks being written, lost or stolen

Every check has a signature, proof of sender and receiver

Paying banks have a lower risk in false checks by verifying additional data.

The repeating check back ground prevent checks from being altered

Reduction of handling and data entry costs, no need to scan checks, to save on bank servers

Banks save money by not having to send checks thru their online check writing and mailing services

Eliminate data entry and processing costs with clearing checks easily with verifiable data that reduces bank losses
competetitors
COMPETITIVE LANDSCAPE
Speed, Security, Pricing and Convenience
| | | | | | |
| --- | --- | --- | --- | --- | --- |
| | eMailACheck | PAPER CHECK | CREDIT CARD | ACH | WIRES |
| Same day | | | | | |
| Cost less than $0.05 | | | | | |
| Encrypted | | | | | |
| Convenient | | | | | |
Trusted &
integrated

partners







Without us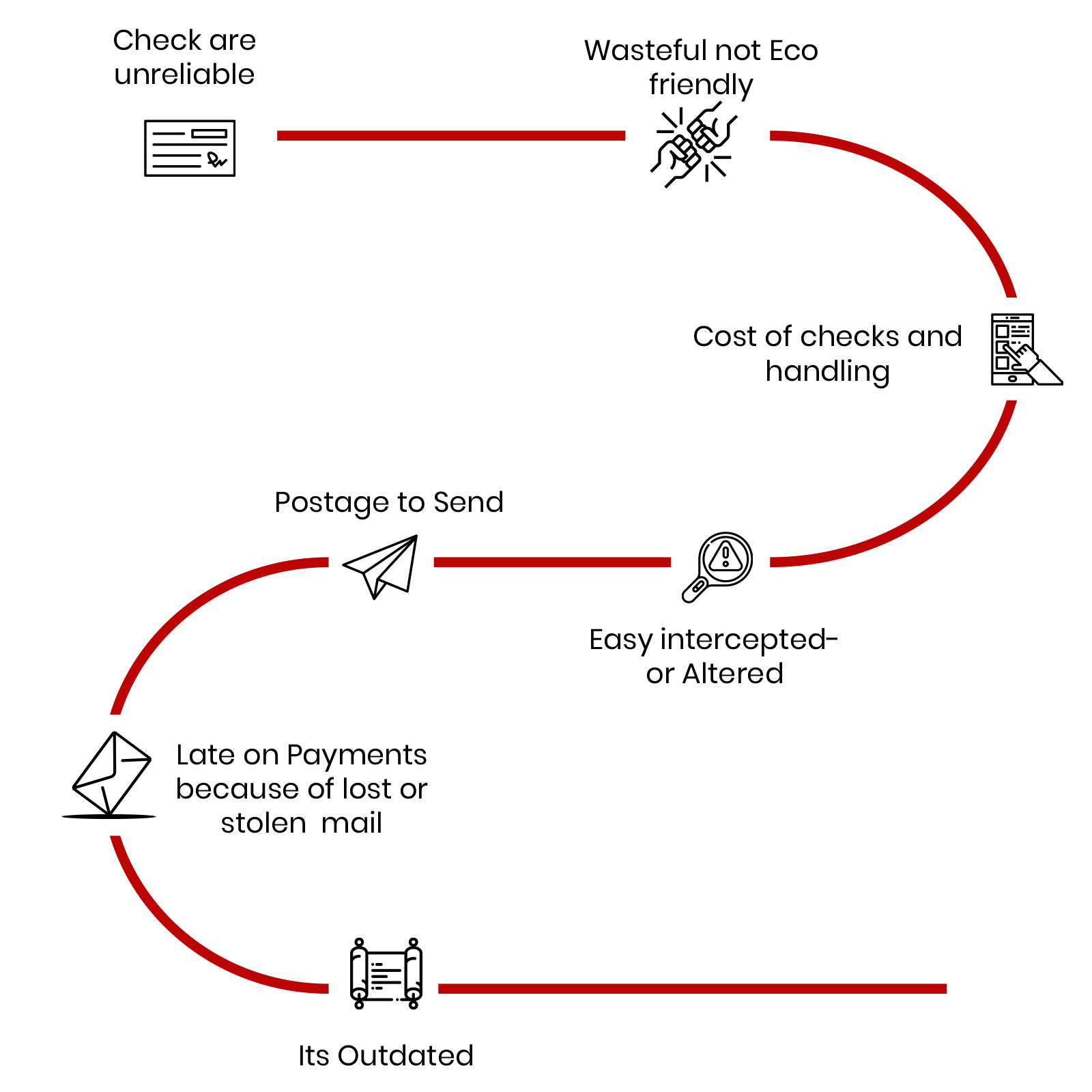 With us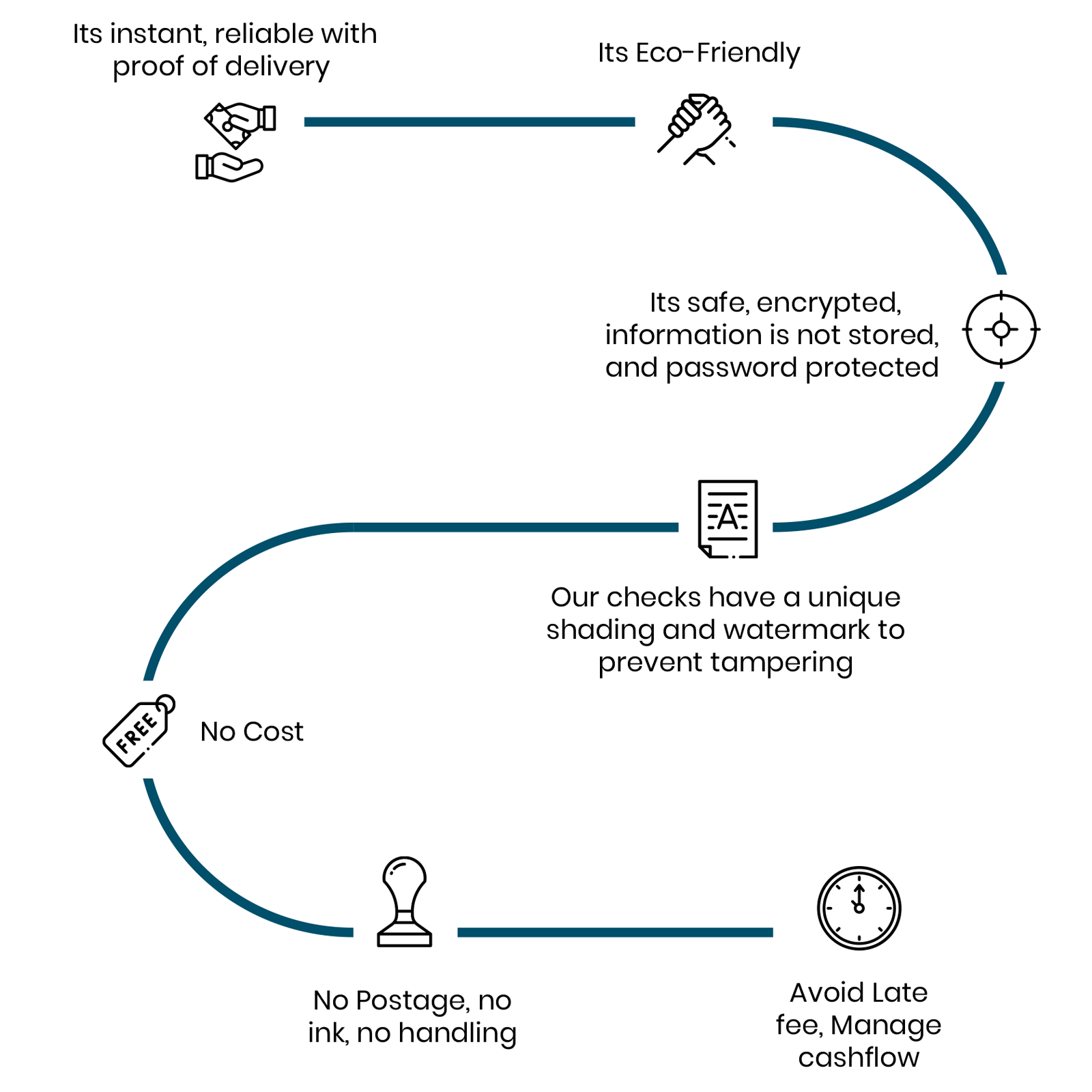 How it works
Is there anything you need to know about how the app works? Don't worry. Follow the signup diagram, and bank diagram, and the check writers diagram.
signup diagram
SignUp and get started
To get started you need to follow a few steps for your verification and security.
1
To Sign-up your account, you need to set up your profile by providing your account name, number, bank information, email address, password, and a security question.
2
Once the information gets verified via text messages and emails, read the Terms and Conditions and check the box.
3
You will receive two small deposits to verify your banking account
4
Mobile app is ready to use, no cost in buying or mailing checks, save $$ on stamps, envelopes, and checks, make timely payments, and no lost mail.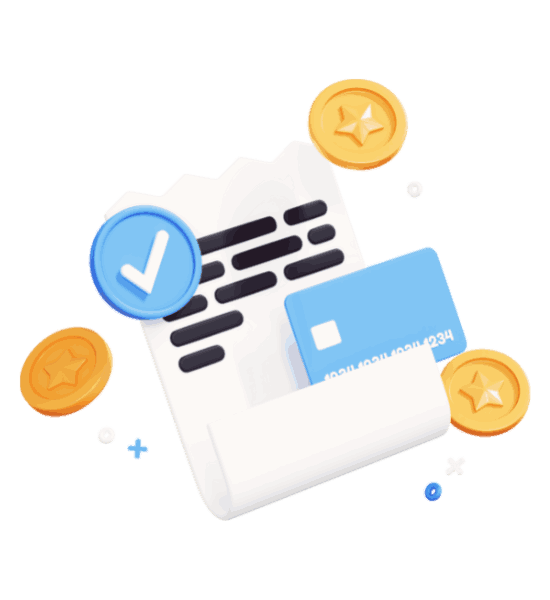 check writer diagram
Sender creates electronic check via mobile app
To get started you need to follow a few steps for your verification and security.
1
Once you verify your account, you have to log back into your eMailACheck account.
2
You going to enter the receiver information to receive the check.
3
Secure electronic check containing digital signature is encrypted and emailed or texted for immediate payment.
4
Payee receives an email and opens it with the password.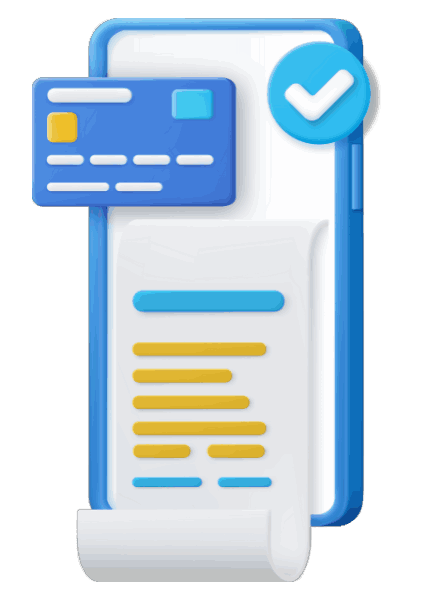 Bank diagram
Verified bank check
Bank verifies the check information and clears the secure electronic check. Follow the steps bellow.
1
Payee will deposit the electronic check with one of the options provided by their bank.
2
Bank receives the printed remote deposit or photo of checks via email scan or mobile bank app from the recipient.
3
When the bank completes their verification, they clear the secure electronic check.
4
Money is deposited to recipient's account - NO WAITING FOR MAIL - NO TRIPS TO BANK - SAVE $$ - SAVE TIME.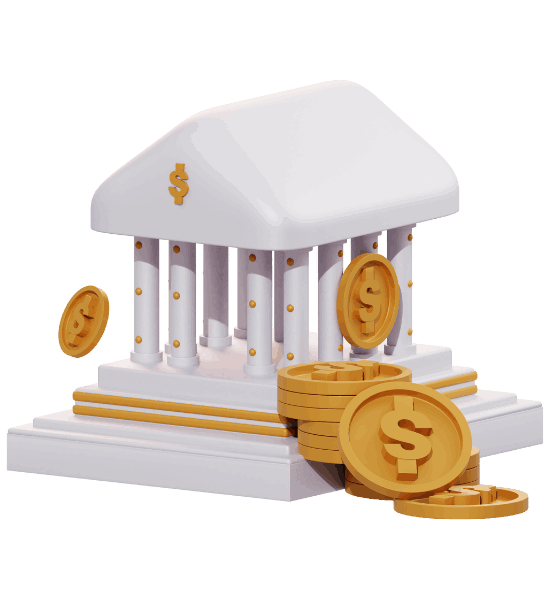 Secure check
Our inbuilt fraud protection is
more secure than traditional

checks.

Our checks have electronic signatures proof of delivery and receipt, and repeating watermarks to prevent them from being altered.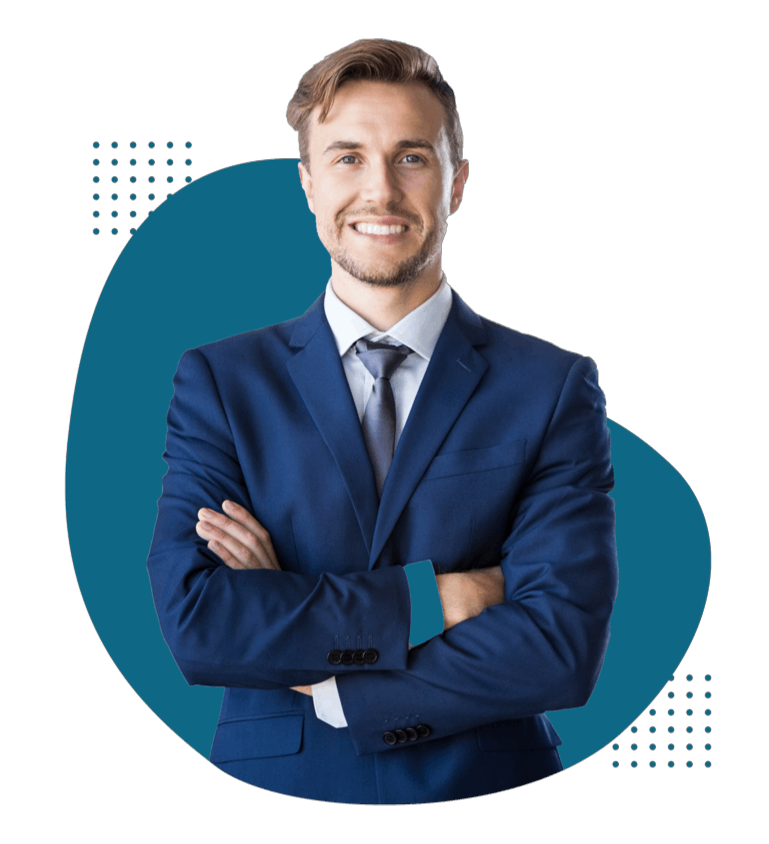 100+
Institution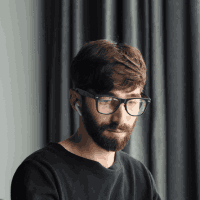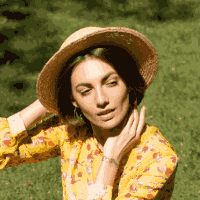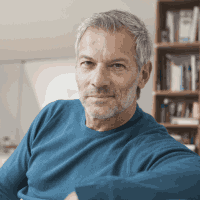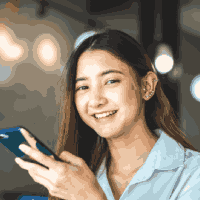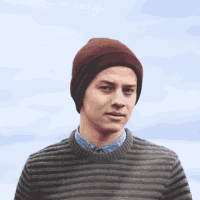 Why eMailACheck
Save on postage, Save on handling costs, Save on envelopes, Save on costs of pre-printed checks, Instant delivery, No lost mail, Confirmation of delivery, Manage cashflow
Excellent
Based on 180 review

Google play store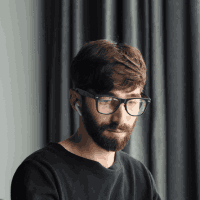 jason ninios
Do yourself a hugh favor and get...
Do yourself a hugh favor and get this app. such a greate tools and extention of normal email apps. it not only is a great looking app but also very fuctional as per needs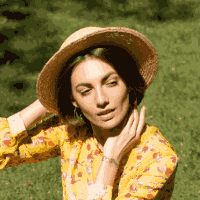 aiyub safri
Excellent service, I'm glad about...
Excellent services, i am glad about it. everything was fine. thanks for the amazing services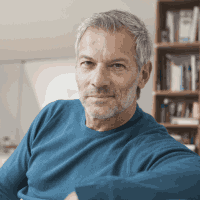 jack Spillman
One of the best application ..
One of the best application I ever used am highly recommended to all best app and good performance best user friendly interface.